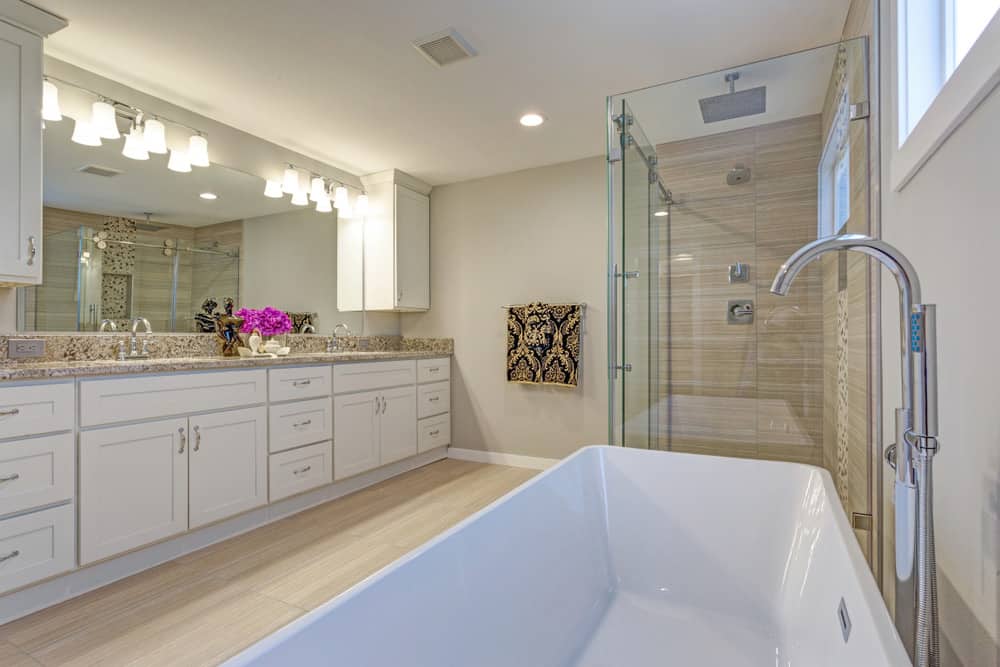 Bathroom Design Trends for 2021-2022 #Inspiration for your Bathroom Reno
By Admin

May 21, 2021

Uncategorized
2021 has been an exciting year for bathroom renovation trends. Turns out that time spent in lockdown is great for breeding creativity.
Because travelling was mostly impossible during a pandemic, you'll find that a lot of these trends tend towards a hotel cross home look.
With that being said, your first considerations should be the practicality of your bathroom for yourself and your family. Once you've dealt with that, you can delve in and take a look at some of the most interesting bathroom design trends of 2021!
Although traditional hotel-like bathroom designs are still quite popular, most bathroom renovations are tending more towards the upper end of the luxury spectrum.
This trend keeps space as one of its most important elements. It focuses on not only being spacious but also feeling more spacious through the usage of neutral colours, large mirrors and tapware and luxurious fixtures.
With more spacious bathrooms being in vogue, shower spaces are getting roomier as well—with showers starting to be designed more to be used by two people at once.
Although wet room bathrooms are a mainstay of bathroom renovation, double-shower bathrooms have almost become standard, some ditching the bath in favour of more shower space.
One thing to keep in mind—if you'd like to remove the bath in favour of more shower space you could run into some trouble selling your apartment later, as some families really need one.
Walk-in showers make for an interesting, and cohesive pathway when placed in a large bathroom. Besides the obvious aesthetic element, walk-in showers can be more practical in some cases, as they're easier to enter and much simpler to clean.
Separating Cold And Hot Taps

This one can come as a bit of a surprise, but a lot of bathrooms have been ditching mixer levers, and have opted to separate their hot and cold taps. This is done because having two taps gives a more balanced look, and does a much better job at filling an empty space than a sole mixer tap does.
With that in mind, this style is a lot less practical, as it's far easier to use a mixer tap than it is to pay close attention to both the hot and cold taps.
Now, although chrome and matte black are still some of the most common tapware finishes, this year has seen a surge in gunmetal, gold, brass, and other metallic tones as choices for tapware finishes.
With that being said, you should only do this if you've bought quality tapware, as it can be a bother to replace tapware done this way, especially as finishes move in and out of fashion.
Although 2020 had Grey as one of the most popular colours in bathroom remodelling, 2021 has shown a trend towards darker styles—and black has been quickly catching up to grey.
Although grey is still rather popular, we expect that black bathrooms will keep growing in popularity, and might outpace grey around winter this year. The trend of black replacing grey is most commonplace for vanities, mirrors, and other kinds of fixtures, specifically those that tend towards matte finishes.
This year has marked a massive increase in futuristic bathrooms. These are bathrooms that take advantage of a lot of the high-tech utilities that have previously been considered frivolous in Australia, despite being commonplace in countries like Japan.
High-tech toilets are becoming more and more commonplace, with smart showers settling into many houses across the country. Voice-activated features have also been picking up, so telling your bathroom to prepare a hot shower might not be out of the question for long.
Furthermore, a lot of bathrooms this year have been outfitted with waterproof televisions. This lets you relax in the bath together with your favourite TV show or musical piece. These days, modern bathrooms are becoming closer to customized spas than they are to traditional bathrooms.
As we've already mentioned, grey is slowly phasing out of fashion in bathroom remodelling. With this comes the inclusion of a lot of warmer accents and colours, especially wood ones. A variety of wooden accents work really well with black, white, green, and other trending colours. It also pairs well with more retro or vintage-looking bathrooms that have been picking up steam lately.
Industrial Sinks & Vanities
On the complete opposite end of the spectrum from more futuristic bathrooms, we have retro, industrial sinks & vanities. Although it's a very intense style which isn't for everyone, it's very popular right now, and you'll be seeing a lot of it in 2021. With metal finishes picking up, and the use of natural, wooden accents, it's no surprise that industrial styles are making a comeback.
When you get your free onsite visit and quote from a member of the team at Best Brisbane Bathrooms, our expert will help you find the right style for you! Get in touch today.