See what our customers say about us!
You've found the right team for the job - Bathrooms, Laundries, Toilets, En-suites
Finally, you can stop looking
You've found the right team for the job.

With over 17 years of hands-on experience building and renovating bathrooms. Our team can guarantee you the superior levels of work and professionalism. Whether you're looking for a main bathroom, laundry, en-suite or toilet renovation, you can rely on us. In the past two decades, our professionalism and excellent tradesmanship have helped us establish lasting relationships with tradespeople, suppliers and clients. When you hire us, you're guaranteed a hassle-free renovation and construction process. Get the right people to do the right job.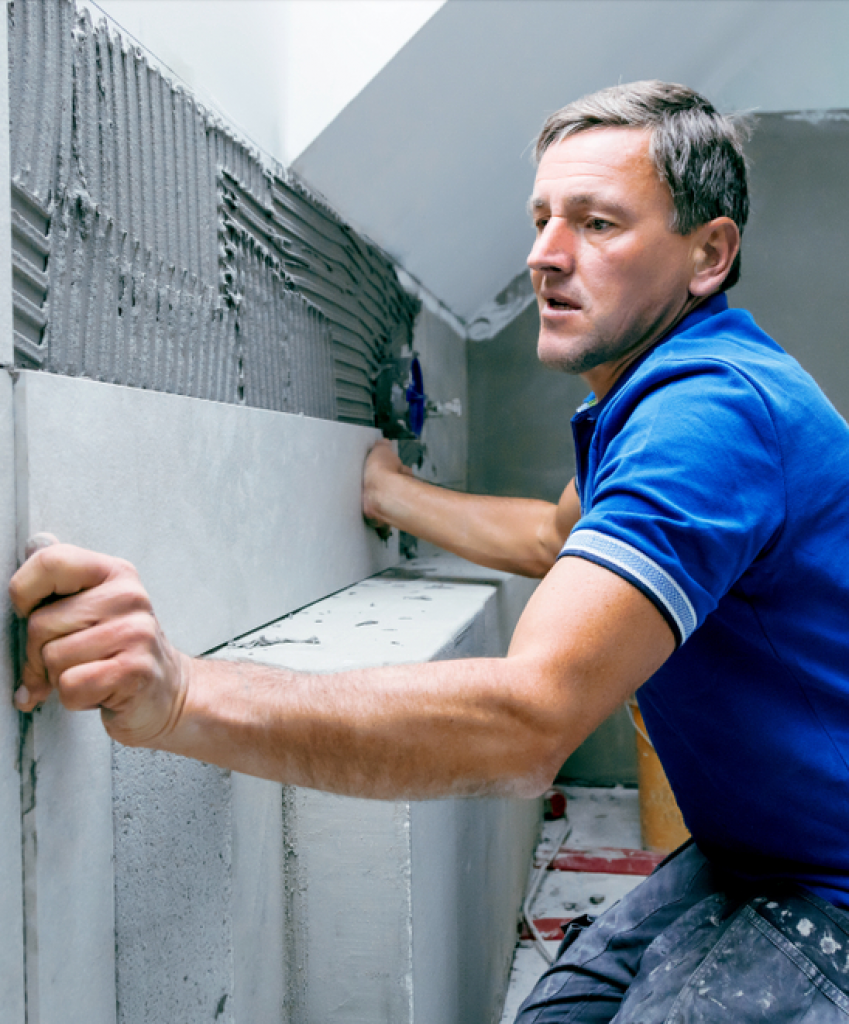 I'm interested, but how much will it cost to renovate my bathroom in Brisbane?
Based on our quotes over the past 24 months, bathroom renovations cost our clients between $15,500 - $21,000 (Incl. GST). This price is fixed and covers the project start to finish, no questions asked. Within this price range, you're guaranteed total coverage of labour, selected materials (fittings, taps, tiles, vanity), plumbing/electrics and cleaning upon project completion.
As each project is priced based on a number of circumstances, we encourage you to get your onsite inspection and personalised quote today—it's free!
What does the process of a bathroom renovation look like?
The exact step-by-step process of your bathroom renovation will depend on the requirements of your job. There are hundreds of details that come with renovating a bathroom successfully, but don't worry, we've got those covered. We've simplified the 6 major stages of a bathroom renovation for you below.
-

STAGE 1: Planning & Design

This stage often takes the most time, but it's vital to get right. In this stage you will have free, onsite consultation with a friendly member of our team to help you get your ideas out of your head and onto paper. With our advice, you'll be able to choose to redesign or keep the layout of your current bathroom and find the right materials for you without breaking the bank.
-

STAGE 2: Strip out & Preparation

In this stage our team will strip out your old bathroom and all it's fittings, rough-in plumbing points and electrical fittings and lay a cement tiling slab. It's imperative to get these steps right as these are the foundations that will make or break your future bathroom.
-

STAGE 3: Waterproofing & Sheeting

Ensuring we go above and beyond Australian Standards 3740 - 2004, we'll apply a polyurethane membrane to the floor area and 100 mm on the walls. This stage speaks for itself...a non-waterproof bathroom is a bad idea. In this stage we'll also sheet your bathroom walls and ceiling.
-

STAGE 4: Tiling

Our clients often find this stage the most satisfying. This is when you'll be able to see the materials you choose in Stage 1 be implemented into your future dream bathroom! We will layout, prepare and cut the tiling materials, expertly minimising wastage and showing you why we're the best in the business.
-

STAGE 5: Painting, Plumbing & Electrics

Our painters, plumbers and electricians will come through once we're done tiling and work their magic. In this stage you'll see your bathroom come to life with new fittings, lighting and freshly painted walls!
-

STAGE 6: Finishing touches & Cleaning

This is the stage we all love and cherish. Any accessories you'd planned to include (shower hooks, bath towel rails, mirrors etc) will be installed. Our professional cleaning team will make sure your new bathroom is spotless and that all rubbish and excess materials are taken off-site so you can enjoy your finished renovation!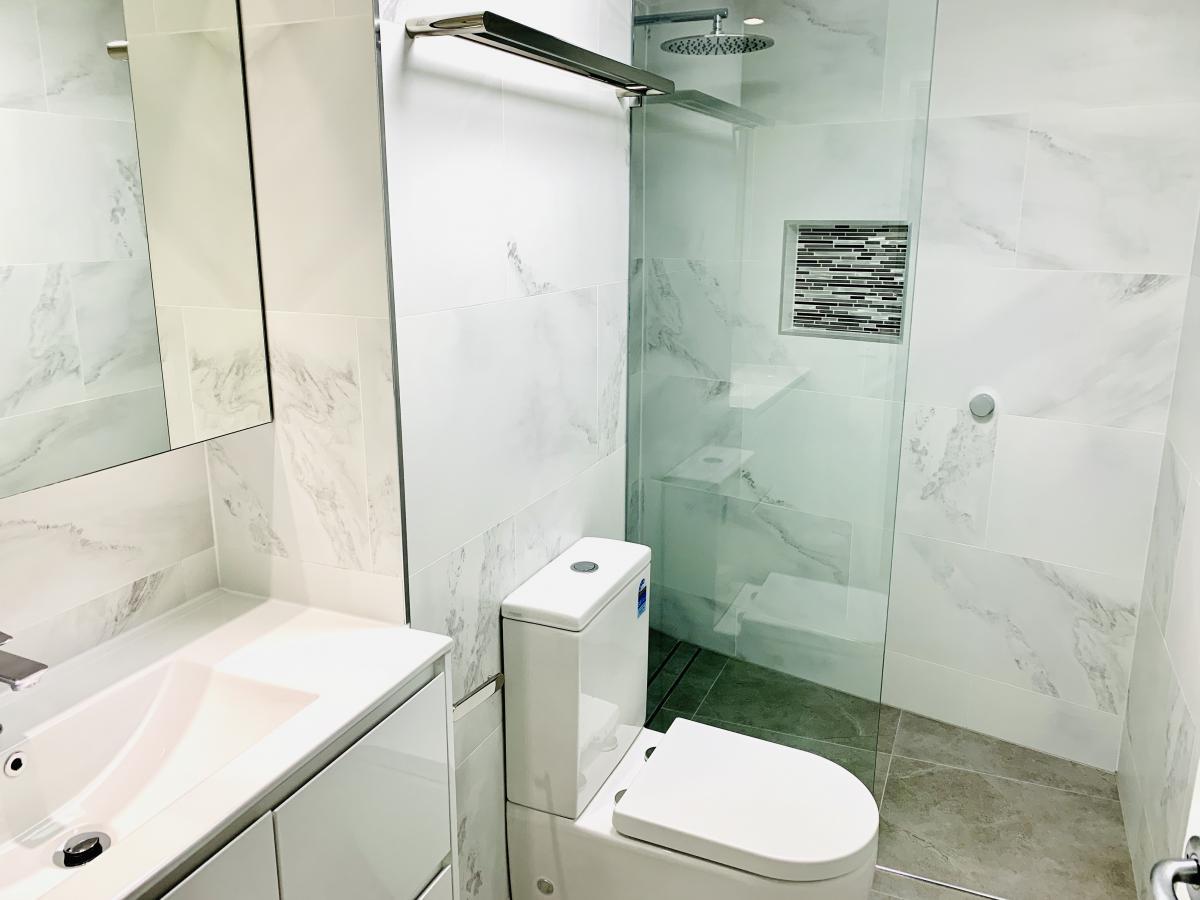 My bathroom is average size for Brisbane's standards. How long will my renovation take?
Each job comes with circumstances that can affect project length. On average, our renovations from start to finish take between 3 and 4 weeks to complete. As part of our quote, we'll always provide an estimate as to how long we will be working in your home. This will help you make plans accordingly and never leave you with any nasty surprises. Factors that can impact project duration can include materials chosen, access to the project and team availability. If you are wanting specific tiling or vanities that have to be shipped in, this could prevent us from being able to finish the job within the month. With that being said, this will be factored in to our project length estimate that you will receive with your fixed quote.
You offer unbeatable rates, but will this impact the quality of the renovation?
Unlike other builders, we would never risk our reputation to improve our profit margins. We take pride in the quality of our work and have done so for over two decades. Our meticulous approach to bathroom, shower and laundry renovations have made us a trusted builder within the Brisbane and Greater Brisbane community—you can read client testimonials here. Our strong reputation has rewarded us with a very healthy flow of old and new clients and unshakable relationships with suppliers and tradespeople within our industry. We're able to leverage these relationships and offer our clients competitive fixed quotes, confident that we'll deliver on our promises.
-

FIXED QUOTES

When we quote you on a job, it's final. Be confident that when you sign off on the renovation, you won't be hit with any unexpected costs or headaches. Unlike other builders who will quote cheap and ask for more later, we quote fairly and handle every aspect of the project for you.
-

QUALITY MATERIALS

Bathroom, laundry and shower renovations should be enjoyed for decades to come. Using our expert knowledge on materials, current or old, we can advise you every step of the way. We'll help you choose the material best suited to your renovation needs—making sure it aligns with your taste, budget, longevity and quality requirements.
-

FULLY INSURED & QUALIFIED

All of our employees and contractors are experienced and QBCC licensed. Many of our tradespeople have been with the TOP Brisbane Bathrooms team since their apprenticeships and have completed dozens of beautiful renovations throughout Queensland. Rest assured that you have the best tradies working on your renovations.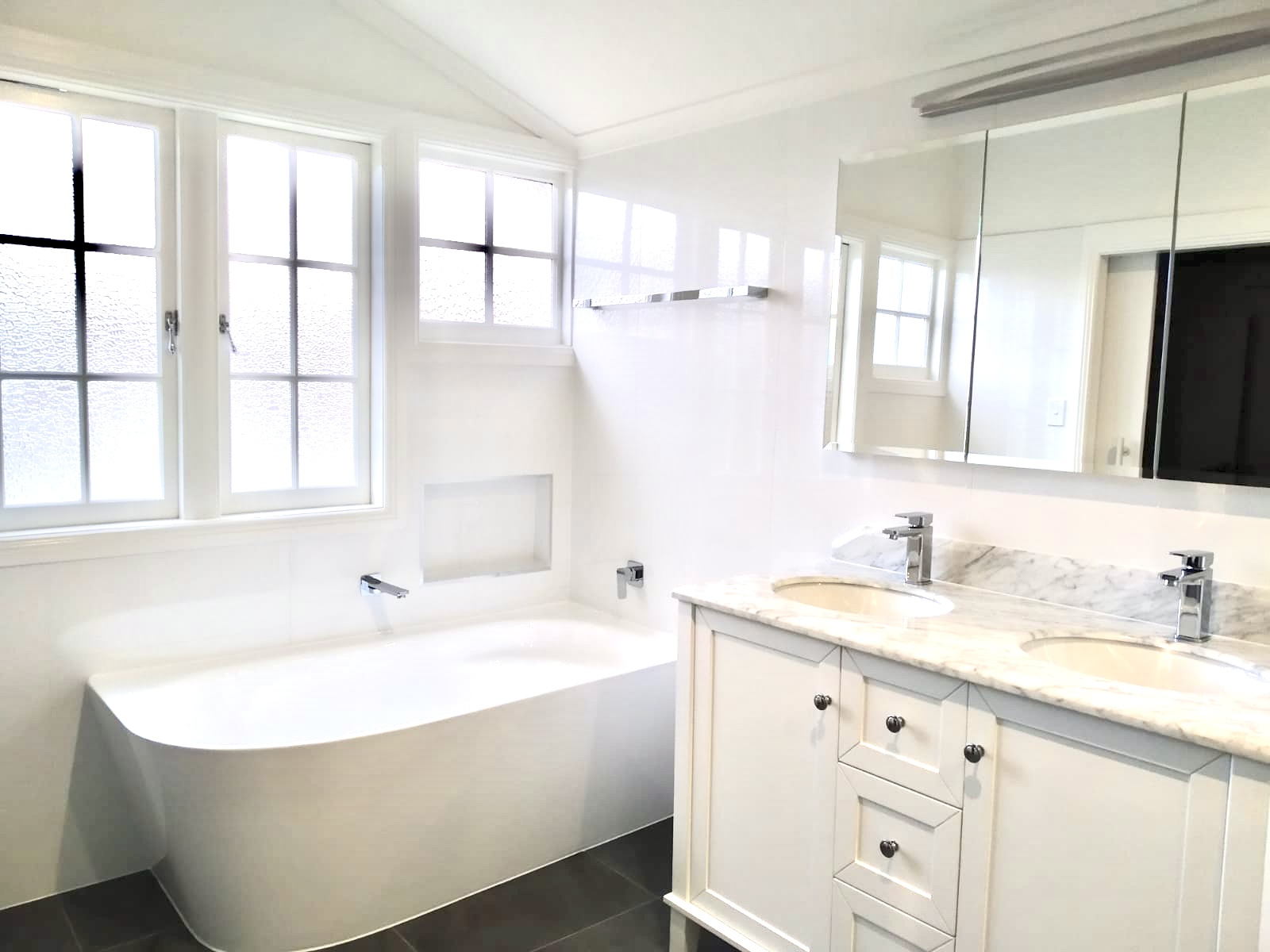 Do you service my area?
We are Brisbane locals. Many of our employees have either grown up or lived in Brisbane and the surrounding areas all their life. We have fitted, renovated and built hundreds of bathrooms, showers and laundries for Queenslanders over the past two decades. We proudly service:
If you don't see your area listed here but live in Queensland, still get in touch! We're always happy to provide our services to members of our community far and wide.