Laundry, where function meets style.
Laundry spaces that work like a charm.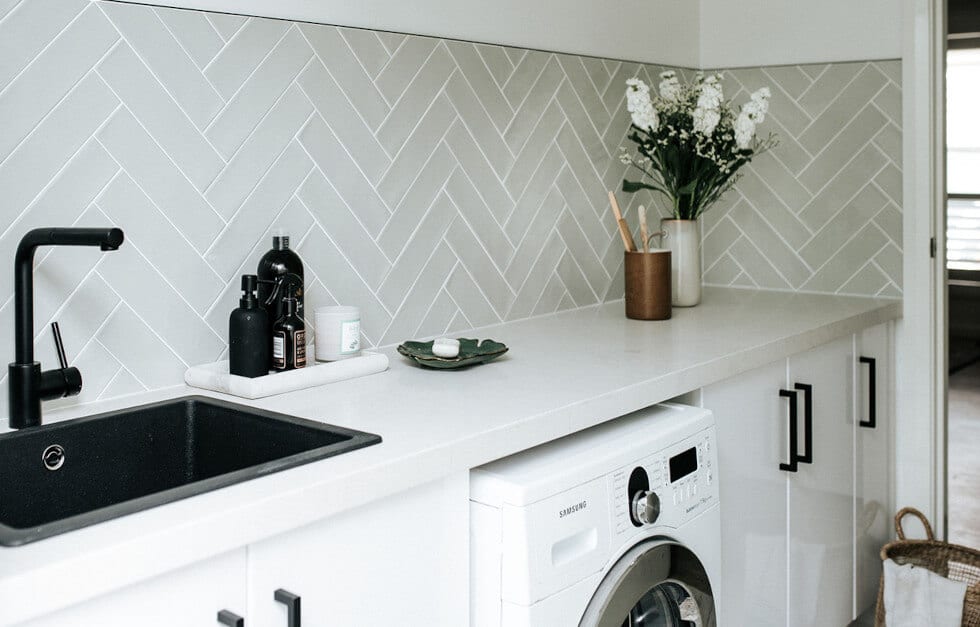 Why Choose Us For Your Laundry Renovation?
We have decades of experience.
Max alone has 25 years of built-up expertise in the industry. The combined experience of our dedicated team would be in the hundreds of years and we're sure that this can be seen in the quality of our work. We mix old school work ethic with progressive design and customer-centric service, meaning you're guaranteed to get laundry spaces that are both functional and gorgeous. We aren't the best marketers or salespeople, but our laundry builds sell themselves.
We're Brisbane's laundry building experts.
Having plied our trade-in bathroom and shower renovations, our team has expanded into renovating and building laundries. Laundries are often undervalued and are the quiet achievers in the family home. They may not be a room you want to spend too much time in, but they are important nonetheless. With this in mind, our team loves building functional and effective laundries that make doing the mundane pleasant! With smart plumbing solutions, excellent waterproofing and access to competitively priced materials, TOP Brisbane Bathrooms build laundries that you'll love to use!
We offer fixed price quotes.
Our strict fixed pricing policy means that the quote we give you is exactly that—fixed. No hidden costs. No unexpected bills. We make sure to spend extra due diligence during the planning and strategy phase of the project so that your laundry build runs smoothly. When you decide to go ahead with TOP Brisbane Bathrooms, you can rest easy knowing that what you agreed to pay is all you'll pay.
We take care of the entire process.
From start to finish, we'll be right there leading the way.
In the planning phase, our experts will carefully listen to your needs, ideas and budget and help you realise the laundry you're picturing in your head. We have countless years of experience doing these laundry builds and know which direction to take you.
Once we have completed the planning phase, agreed on a fixed price, and know all the materials and look you're after—it's full steam ahead. You can take a seat and watch us work our magic. Any hiccups will be expertly handled by our team and will not be your problem. Our fully licensed tradespeople will follow the step-by-step process that we have used to execute dozens of builds successfully, leaving you with a beautiful laundry!
See what our customers say about us!
We build efficient laundries that save you money.
At every stage of your renovation journey, TOP Brisbane Bathrooms strives to be cost-effective for you. From the start, you'll experience our fixed quote policy, meaning you'll never be hit with unexpected fees or headaches and you can be sure that we'll take care of any unforeseen obstacles. You'll see the premium quality materials you bought at competitive prices being installed during the building phase. Once your renovation is complete, you can expect to save money in the long run on water bills and laundry touch-ups and repairs. This is because our quality of tradesmenship combined with the premium materials we use stand the test of time. Our laundries are built to last.
On top of this, you can expect our laundries to add value to the price of your home. Many buyers, especially those with families, expect homes to have functional laundry facilities.
We're committed to the community.
We are Brisbane locals. Many of our employees have either grown up or lived in Brisbane and the surrounding areas all their life. We've got hundreds of expertly finished laundries under our belt. We'll show you just how far passion and experience goes! We proudly service:
If you don't see your area listed here but live in Queensland, still get in touch! We're always happy to provide our services to members of our community far and wide.